Webinars
A webinar (web-based seminar or workshop) is a presentation that is transmitted over the Internet.  It is interactive. You are listening to the speaker, chatting with other participants and watching the video. You can send messages, receive files and discuss in the real-time. 
An amazing opportunity to get a new learning experience is available for visitors of http://olga.co.il using webinar software at http://webinar.ru
This service offers live streaming options and the ability to record the weekly one-hour webinar.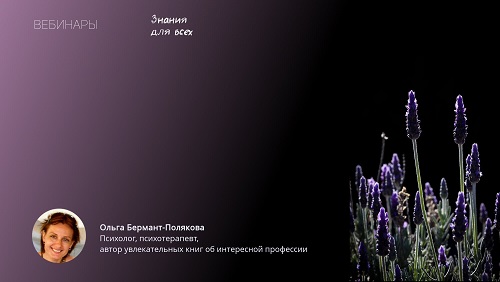 For more information please visit the Webinars of Olga Bermant-Polyakova on the Facebook:
A psychologist in Israel
A person who wishes to practice psychology in Israel must, by law, obtain a license from the Ministry of Health.
"Say Goodbye to Clinical Psychology, wrote Refael Yonatan Leus in Nov 05, 2013.
Israel is about to become the only country in the Western world to expel psychologists from the public health system".
In 2015, the "reform of mental health insurance" is supposed to take effect. As part of this reform, responsibility for the public's mental health will be transferred from the state to the health maintenance organizations.
Once the reform is implemented, there will no longer be any organization responsible for and committed to training clinical psychologists.
Read more: http://www.haaretz.com/opinion/1.556492
There are three levels of specialization in psychology which require licensing:
Psychologist - a process of obtaining a license to practice psychology and registration in the "Register of Psychologists".
Specialist Psychologist - there are six areas of specialization in psychology, which are under the responsibility and supervision of the Ministry of Health: developmental, social-occupational-organizational, educational, clinical, medical and rehabilitation.
Supervisor - for each of the specializations within the field of psychology.
In 2017, a personal portal for psychologists will start running in the medical professional licensing computer system.
To allow access to the portal, all psychologists with a license are requested to send personal details to the email address This email address is being protected from spambots. You need JavaScript enabled to view it. by January 25, 2017.