The Institute of Philosophy, Russian Academy of Sciences (RAS Institute of Philosophy) is the principal institute in Russia for academic research in this field. An academic study of the highest quality is pursued here, covering all the main thematic areas and current problems of contemporary philosophy.
In the Institute of Philosophy, there are working at the present time more than 280 academic collaborators, among whom are many famous scholars of world-class, including nine fellows of the Russian Academy of Sciences. The fact that they all work as a single academic team and form a single collaborative academic society makes the Institute unique among philosophical institutions. The members of the Institute produce each year more than 100 books and above 1000 articles.
The official website of RAS Institute of Philosophy is https://eng.iph.ras.ru/.
In the summer of 2015, I was invited to present my paper about conflicting loyalties for the three-volume book "Human Choice in the Modern World: Challenges, Opportunities, Solutions" printed by publishing house Nauchnaya Mysl in 2015.
The book based on materials of the scientific conference at RAS Institute of Philosophy on October 27-28, 2015. I flew to Moscow to take part in it.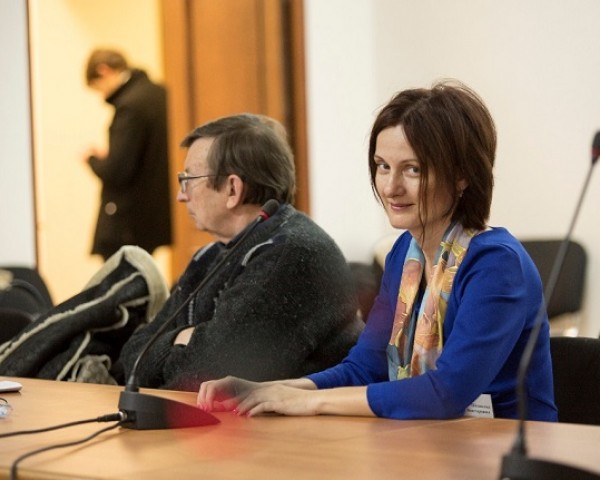 Olga Bermant-Polyakova, Moscow, 2015, RAS Institute of Philosophy
Человек перед выбором в современном мире: проблемы, возможности, решения: Материалы научной конференции 27-28 октября 2015 года, ИФ РАН (Москва). В 3-х тт. Т.3 / Под общ. ред. д-ра филос. наук, проф. М.С. Киселёвой. - М: Научная мысль, 2015.
Моя статья
Бермант-Полякова О.В. Проблема выбора в конфликте лояльностей
опубликована на страницах 108-121 издания. Текст доступен онлайн на сайте института:
https://iphras.ru/uplfile/root/biblio/kiseleva_2015/Kiseleva_2015_3.pdf
The article is in Russian. Text is printed on pp. 108-121 and avaliable online on the Institute's site.